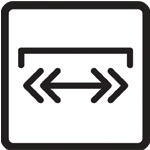 ADJUSTABLE ACCORDING
TO BOARD WIDTH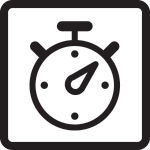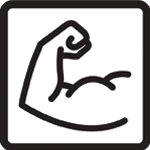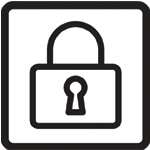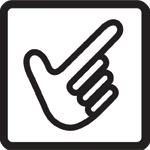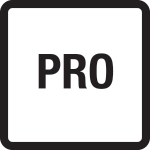 UNCOMPROMISING
QUALITY AND PERFORMANCE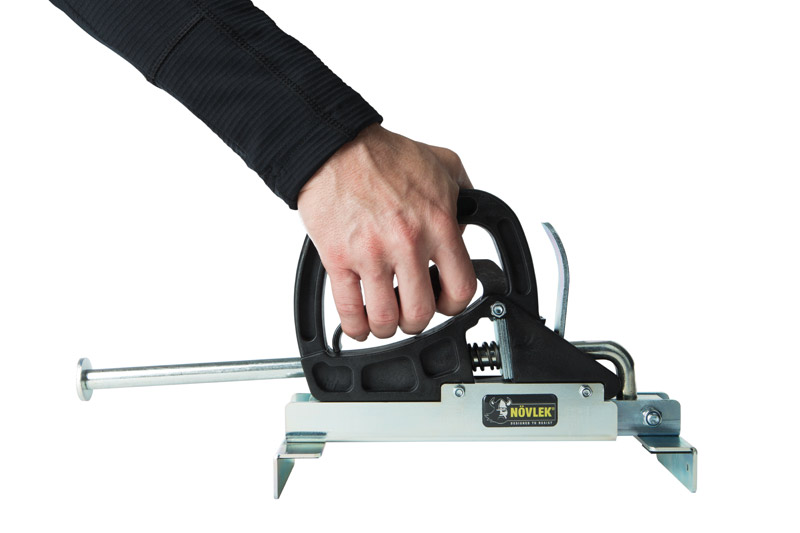 Only one hand needed
Manipulated and operated with one hand, suitable for right- and left-handed use.
Gradual, effortless tightening with the comfortable trigger.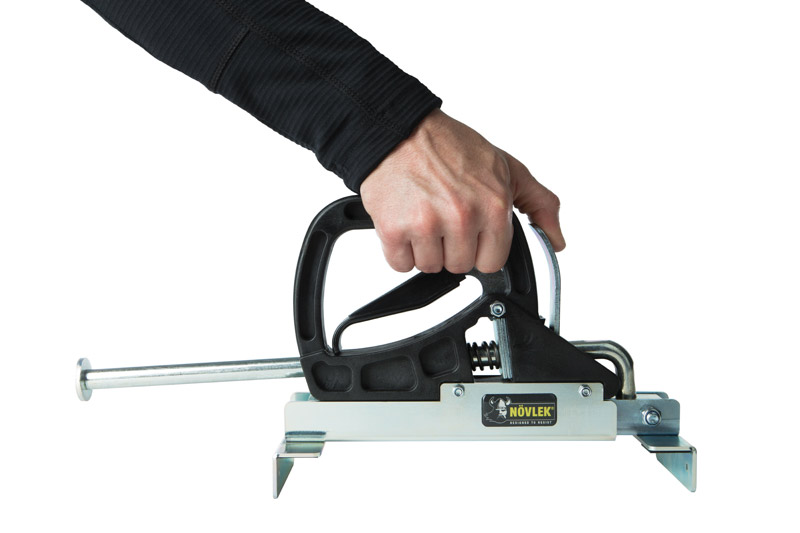 Adjusted once and for all
Tool unlocked for removal with the front trigger.
The jaw spacing is adjusted and locked automatically for the entire job, saving considerable time and making it extremely easy to use.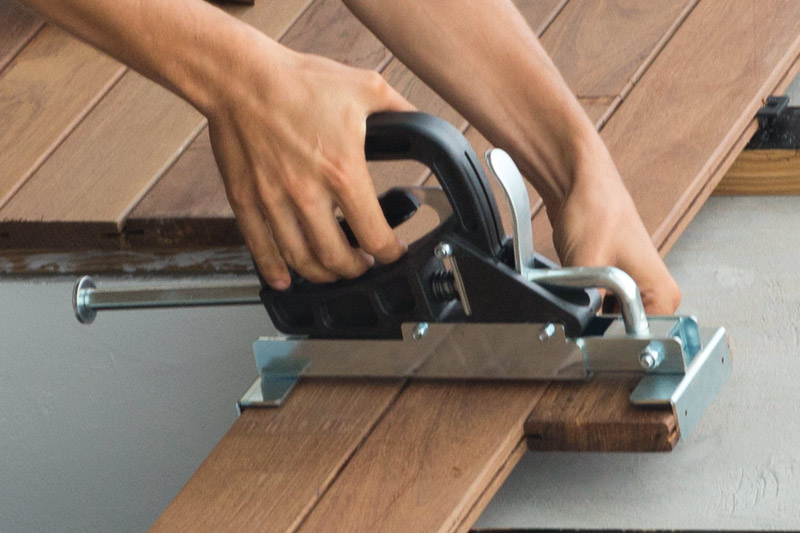 Narrow boards
The NÖVLEK® board clamps can be used with narrow boards. In this case, a sacrificial shim is needed. It can be screwed to the jaw temporarily, with the two holes provided for this purpose.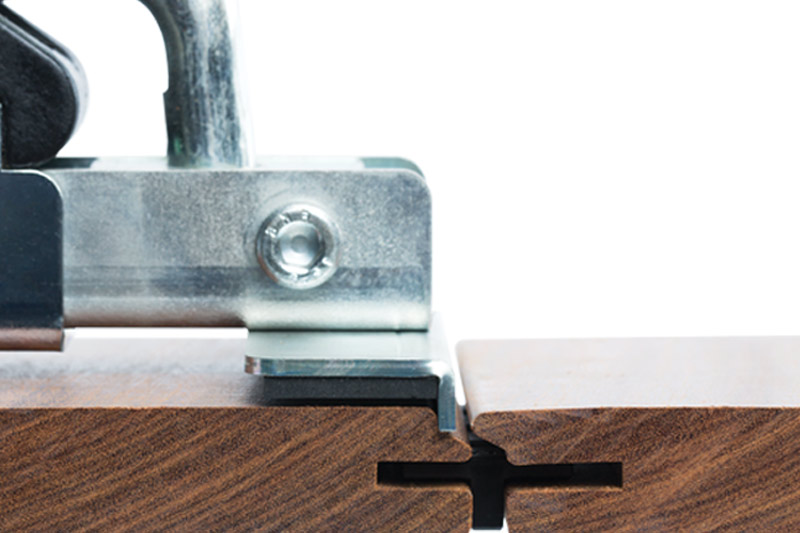 Can be used with the DROP™ profile
A short bracket is available for use with boards having the DROP™ covering profile (from NÖVLEK®) or similar.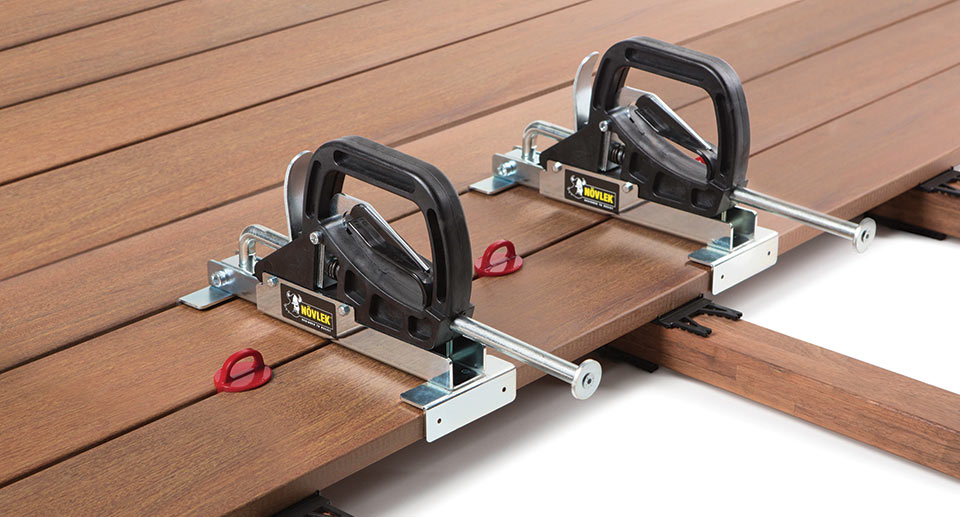 L'utilisation simultanée de plusieurs serres-lames améliore significativement l'efficacité, la qualité et la rapidité de pose.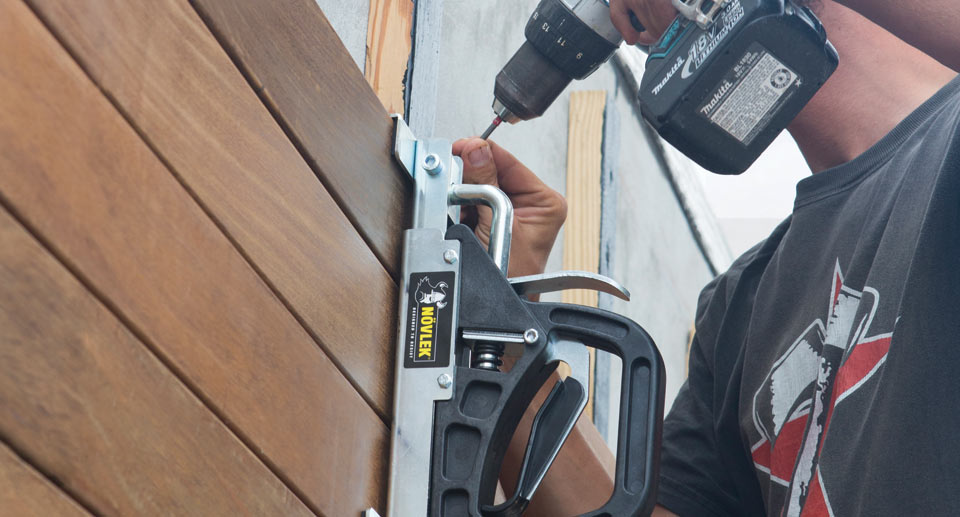 Convient pour la pose de lames de bardage, aussi bien verticales qu'horizontales.
Why choose the NÖVLEK® board clamp
rather than a lever-arm straightener supported on the joist?
Does not damage the edge of the boards, or the joists.
Allows tightening and straightening up to the last board.
Can be placed anywhere, alone or with several aligned side by side, when the situation requires it.
No limit on its use:

even in the narrowest areas or close to an obstacle;
on the connections and spacers between joists;
whatever the height, width or material of the joists or beams;
regardless of whether the joists are covered by overhanging bituminous strips;

Acts only on the board, without applying any force to the joist.
There is no risk of displacing or distorting the joist.
Keeps the finishing boards in place before they are screwed.