Superior wood decking and flooring in tropical St. Martin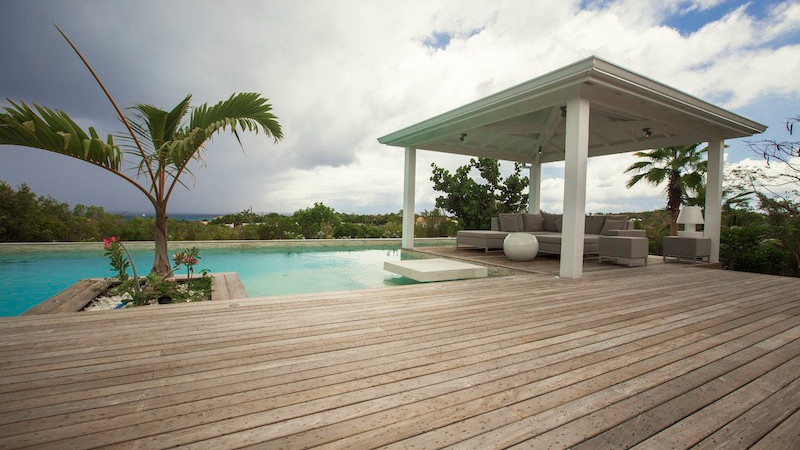 With over 70 km of coastline, St. Martin is a magical island, embedded between the Atlantic Ocean and the Caribbean Sea. Covering just 88 km², this tiny volcanic French-Dutch island is so much more than a beach lover's paradise. Besides white sands, turquoise waters, stunning corals and caves brimming with colorful tropical fishes, anyone can enjoy its culinary delights and vivid nightlife.
We had the opportunity to discover St. Martin through an ambitious residential project in which we were involved back in 2009.
Növlek took charge of this rental villa's renovation, step by step, from selecting to maintaining the wood.
When selecting the wood, we first considered local climate conditions. As a true Caribbean island, Saint-Martin has a tropical climate, with an average annual temperature of 27°C, peaking around 32°C and rarely dipping below 20°C.
We opted for a hardwood such as IPE for its exceptional weathering characteristics. Commonly known as Brazilian Walnut or Lapacho, it originates from the Tropical Americas and boasts an excellent resistance to insects. It may be difficult to manipulate, but that's exactly why it is so dense and durable. It comes as no surprise that we used it for both bathroom and wall covering, but also for flooring and decking.
Fast and easy to install, HardWood Clip proved to be the magical ingredient for this wood project. As the only hidden fastening system that screws each screw directly into the joists, it guarantees exceptional stability. With no visible fasteners nor holes, the boards' surfaces remain perfect, resulting in top-notch design. Furthermore the anti-reflective coating, black colored HardWood Clip fasteners and antique brown stainless steel screws perfectly align the boards and absorb all light and sunrays.
A wood project coming up? For expert product advice, don't hesitate to contact us. We will gladly show you how the latest generation of fasteners guarantees stability, design, durability and safety.
The perfect mix of nature and architecture. The wood decking seamlessly blends into the lively landscape of this magical island.
Indulge your senses in this dreamy atmosphere
Shower carefree! Compared to traditional installations, HardWood Clip eliminates the risk of injury caused by raised screw heads or damaged wood surfaces from screwing.
Perfectly aligned boards with regular spacing.